AT&T's Usage Caps and Video Piracy
AT&T has announced that it's going to set a soft limit of 150 Gigabytes/month for their ADSL customers and 250 Gigabytes for their VDSL+ (U-Verse) customers. The reaction of the piracy and general hysteria lobby to this policy follows the familiar "shoot first and ask questions later" script. The pressure group known as Free Press denounces the policy as harmful to innovation:
AT&T's Internet overcharging is a poor solution to an unproven problem, and it will have a chilling effect on economic growth and innovation online. AT&T claims that its caps and penalties will only affect a few users, but unless the limits grow rapidly along with usage, many more customers will soon be ensnared. When ISPs force their customers to watch the meter, experimentation, innovation and business will suffer.
One of the more hair-on-fire bloggers, Janko Roettgers at GigaOm, fabricates some usage figures, and from that analysis concludes that AT&T is out to get Netflix:

How much Netflix video does 150 GB get you? Not that much, actually: If you watch a movie like Moulin Rouge in HD, you're going to use around 3.5 GB of data. A single episode of Weeds equals about 800 MB when watched in HD. If you were going to use all your 150 GB of AT&T bandwidth to watch HD video from Netflix, you'd only be able to watch about three hours per day — and that's without doing anything else.
See how he does that? Moulin Rouge has a running time of just over two hours (127 minutes,) which by Roettgers' estimate would consume 1.7 Gigabytes/hour. And sure enough, if he's right, the ADSL user gets three hours a day of Netflix viewing. He doesn't bother to do the math for the U-Verse user with a higher cap, because that would be no fun.
Let's see if Free Press and Janko Roettgers are telling the truth.
Netlfix recently posted performance comparisons of major ISPs in the form of a detailed performance graphs, according to which they stream videos at an average rate of 1.5 Mbps into the AT&T network.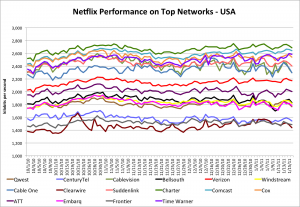 This is not a "back of the envelope calculation" per Mr. Roettgers, this is an actual measurement that works out to 675 Kilobytes per hour. That comes out to 222 hours of streaming TV per month, or 7 hours a day plus change, for ADSL users with the 150 Gigabyte cap (in reality, their actual streaming rate will be lower than the 1.5 Mbps figure that averages all rate plans, including the higher speed VDSL+ plan known as U-Verse.) For U-Verse users, the 250 Gigabyte cap allows a maximum of 370 hours of streaming per month, but probably a bit less as they're going to be able to handle higher resolution.
AT&T will sell additional bandwidth for $10 per 50 Gigabytes, a generally fair price given the economics of broadband. The excess capacity fee is roughly a 400% markup over the OpEx cost of bandwidth, a typical multiplier that leaves just enough profit on the table to cover the CapEx costs of the long-term bandwidth crunch.
To put these numbers in context, the average American watches a whopping 6.75 hours of TV each day, so if all of AT&T's broadband customers cut the cord completely on broadcast TV and substituted Netflix, AT&T's new plan would not raise their prices, so there's no meaningful argument to be had with this plan in terms of the transition from broadcast TV to Internet TV. AT&T is saying: "bring it on."
Free Press and GigaOm are both blowing smoke, in other words.
Given that the AT&T caps will allow the typical consumer to completely substitute Netflix for OTA and cable TV, they're clearly pro-innovation. Given that they're high enough not to affect streaming and just low enough to raise the price of piracy – most of the applications that run to more than 250 Gigabtytes/month are likely to be those in which the user is not paying for content at all – I'd have to say they're pretty close to ideal. We want users to have enough capacity for legitimate uses, but not enough for illegitimate ones, after all. And by the way, AT&T is going to warn customers when they're reaching their limits, on their monthly bills, and at 65%, 90%, and 100%.
The AT&T caps will permit today's Internet users to cut their cable TV cords completely, and then to increase their TV resolutions substantially before paying a dime more than they pay today. Most people would regard that as a darn good deal. As Jon Healy explains in the Los Angeles Times, this kind of pricing plan is exactly what the normal user wants:

…the caps are a better deal for most broadband users than all-you-can-eat pricing that forces them to subsidize the outsized data appetites of a small minority. That's the dirty little secret of the flat-rate pricing model that AOL made standard across the Net: It costs most users more than they would have to spend under the pay-as-you-go model.
And that, my friends, is reality: The all-you-can-eat plan passes the costs of high consumption to low consuming users, a great deal if you're in the upper two percent, otherwise not so keen and marvey at all.
I wonder how advocates of flat-rate pricing for broadband would like an income tax system in which everyone paid the same amount of money regardless of income; I'm guessing that wouldn't go over too well.
It's interesting that America's actual free press, personified by the LA Times' Jon Healy, understands this issue while America's notional Free Press, the pressure group that's all heat and no light, doesn't; and perhaps even more interesting that a tech blogger who's supposed to be a video expert isn't even familiar enough with what Netflix has been saying about the ISPs to pull the right consumption numbers out of the air.
I guess it's not quite time to give up on the mainstream media after all.
That being said, usage caps are not the best way to deal with network congestion by any means. The two problems with caps both relate to their lack of precision: Monthly caps don't distinguish between network load offered at times when the network is not congested, and they also don't differentiate between applications that can afford to wait few fractions of a second between each pair of packets. It wouldn't be incredibly difficult for operators to count non-congestion packets separately from those that contribute to congestion; it's actually dead simple. But distinguishing applications from each other and treating them according to their needs raises the ire of the naive net neutrality advocates who insist that all packets are equal.
Usage caps are therefore one of the consequences of net neutrality, so if you don't want applications distinguished from each other, you're making the argument for usage caps whether you know it or not.